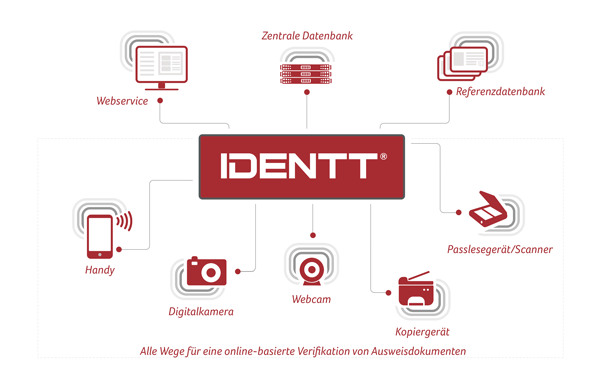 IDENTT – Your Solution For Secure Identity Verification
What is IDENTT?
IDENTT is an innovative system that revolutionizes identity verification in customer service processes through powerful algorithms. Wherever reliable identity confirmation is needed, IDENTT provides support with automated precision. Compared to traditional methods, automatic verification provides more accurate and reliable document verification. Companies that rely on our solutions increase the ability to detect and prevent fraud attempts at an early stage.
How did IDENTT evolve over time?
Since our foundation in 1999 in Hamburg, we have been setting standards:
• 1999 The first version of IDENTT Knowledge, our database for identity documents and banknotes, goes online.
• In 2009, we expanded our international commitment with the establishment of IDENTT SWISS GmbH in Switzerland for sales and marketing.
• In 2015, we launched IDENTT Poland in Wroclaw, where we develop groundbreaking next-generation automated products – e.g. IDENTT Vision.
Which safety certificates underline the quality of IDENTT?
Trust and security are our top priorities. This is proven by our successes:
1. ISO/IEC 27001:2013 Certificate – Our secure information processing for the IdenTT Proofing Service in the cloud is certified according to the Statement of Applicability.
2. Penetration Test Success 2020 – The IdenTT Verification System successfully passed penetration tests using the in-grey box model method, conducted by SEQRED.
3. Penetration Test Success 2021 – Our IDENTT Vision Web Application also underwent successful penetration tests with an automated testing method under the direction of LogicalTrust.
With IDENTT, we are making the future of identity verification safer, faster, and more efficient.
Conclusion: IDENTT – Trustworthy and efficient identity verification for companies
IDENTT offers an innovative solution for identity verification in customer service. With powerful algorithms and modern technology, IDENTT sets new standards for precision and reliability. Businesses can rely on automated verification, which is more efficient and accurate compared to traditional methods. The verification of biometric data further increases security. Since its foundation in 1999, IDENTT has continuously developed and focused on trust and security through ISO certification and successful penetration tests. With IDENTT, companies are equipped to detect fraud attempts and strengthen their customer loyalty.